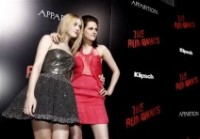 Kristen Stewart and Dakota Fanning talk about playing two rock and roll icons caught up in a whirlwind before that were 18-years-old.
"Cherie Currie and Joan Jett were 15 when they started the band. Where were you emotionally when you were that age?
Fanning: Where I'm at personally doesn't really affect the roles that I choose. For this one, I really liked that I was 15 and Cherie was 15 when she was going through all of this because I never wanted it to be like I was pretending to be older and doing things that were too "old." This was a real thing and she actually went through this when she was that age, and I liked that parallel and similarity to her. My mom told me when I read the script that I had on a cherry temporary tattoo, which is kind of weird. Cherie loves that story. I think she tells it to everybody!
Stewart: It's funny how you remember your life in movies, like how old were you when you did this movie. I remember being 15 when I did 'In The Land of Women.' I was still in school, which was different, but like Dakota, I lived a really normal life that is really starkly different from theirs."
Read more at Moviefone.