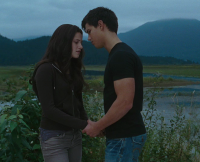 Cinematical interviewed Kristen Stewart and Dakota Fanning for their film The Runaways.  While in the interview the two were asked about the Eclipse trailer.  While Dakota hadn't seen it yet, Kristen had and said that she liked it.
"I think Taylor [Lautner] looks really great. Like, he looks very strong and I love his voice in it," she said.
Read more at Cinematical.