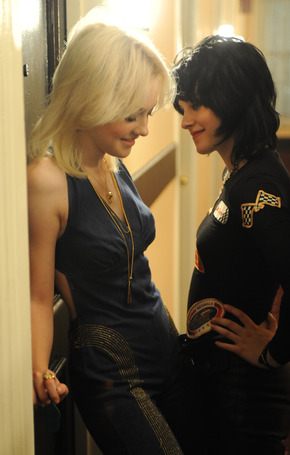 Yesterday was press day for the Runaways and two of the better interviews out there were done by IESB and Hit Fix.
First from IESB:
Q: What was it like for you guys to get into playing Joan Jett and Cherie Currie? Kristen, you and Joan seem to have a similar energy, but Dakota, you seem so different from Cherie Currie. How was it to portray these women?
Dakota: I think it's a huge departure from other roles that I've played, and me, in real life. It's obviously very different from things that I've done before, and it will be different for people to see, but I like that. I like surprising people with different things that I can do. That's what I love to do. And, I hope to do more roles like this, in the future.
Kristen: Me and Joan really do understand each other, and that's a rare thing. Connection is not something that's common, or easy to describe. But, I really actually think that we both have a lot of idiosyncracies and ticks that are really different. I don't have her little things that she does. And, I also think that, especially based on when I did this movie and how much time I had to think about doing the movie before I went to go make it, I've done a lot of press within that time and I was sort of wearing her. People projected that onto me, a little bit. I really do feel like it was an easy thing to step into, and it wasn't a huge departure, but I do feel a little bit like I was just in that head space and projected that a little bit." Read more here.
Next From Hit Fix:
Q: Can you talk about your own musical tastes?  And what you learned about rock n' roll attitude from Cherie and Joan?
Stewart: Ah, I think that I have a pretty varied taste in music I think.  And it is primarily rock music big umbrella that I am, I am not into hip-hop.  But, I do like both. This was a cool experience because there are a lot of bands that Joan is really influenced by like the Stones which she is obsessed with and just sort of obvious.  Like, she listens to Zeppelin and loses her mind. And I just abbreviated both of those bands and I sound like…(Laughs.)  Um, it was cool to get to know music that was just like a little bit harder or just a bit obscure.  I mean Suzi Quatro is not something that is a staple of our generation.  So, and in terms of being able to play Rock n' Roll? I really, really love this movie because in many ways they were the first girl band which is crazy and people don't know that too. And there's an aggression and an assertiveness that comes through their music. And at the same time its so feminine.  It's a distinct aggression.  It's not a male. And I love that and that's why the movie is cool or should be cool.
Q: Dakota, can you talk about your musical tastes and what you learned about rock 'n' roll?
Fanning: Well I think my musical tastes have definitely been broadened by this movie and I have really found that I can't get out of listening to the Runaways and Joan, because it brings back the memories of the movie and I love it so much and it makes me happy.  (Laughs).  So, I listen to that a lot.  Before that? I love music, but I'm not a huge music person.  I don't listen to a ton of music, but that's definitely changed after doing this. And I really wanted to be a part of this to bring the Runaways to them before because I wasn't aware of them before and I feel that's a lot of people in our generation and I think that's wrong. Read more here.