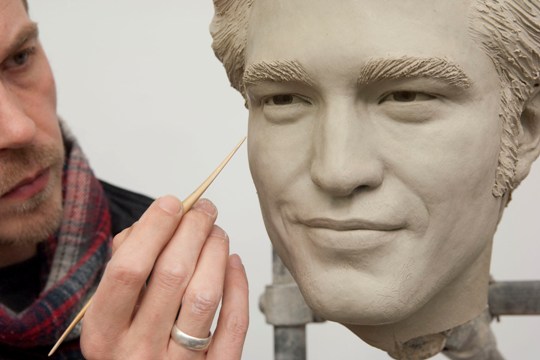 This just in from The Madame Tussauds PR Team
"Madame Tussauds New York today released photos of a clay head mold of Hollywood heartthrob Robert Pattinson (or R-Pattz, as his loyal legion of admirers call him). The famed Times Square wax attraction also announced that Pattinson's completed figure will be unveiled on March 25, 2010, and that R-Pattz's biggest fans will be invited to be part of the debut event.
The clay head mold represents a crucial step in the up to six month-long figure creation process. A team of studio artists at Madame Tussauds have been studying hundreds of photos and pouring through hours of video to ensure that they capture R-Pattz's trademark sultry expression and inimitable style. The artists are also working double-time to create not one, but two wax likenesses of Pattinson – one for Madame Tussauds New York and one for Madame Tussauds London.
"Since the release of Twilight, we have been inundated with requests for a figure of Robert Pattinson and are thrilled that in just a few weeks, his figure will officially be part of Madame Tussauds New York. It comes at the perfect time with his next film, Remember Me, expected to light up the box office throughout the month of March," said Janine DiGioacchino, General Manager of Madame Tussauds New York and Washington D.C.
When Pattinson's figure is unveiled on March 25, the Twilight star will join the likes of Hollywood leading men Brad Pitt, Leonardo DiCaprio, Daniel Craig, Johnny Depp, George Clooney, Will Smith and Sean "Diddy" Combs – all of whom have been immortalized in wax by Madame Tussauds New York. Visitors will be able to cozy up with Pattinson's figure for a photo or even a hug.
Fans who wish to attend the launch of Pattinson's figure at Madame Tussauds New York should visit www.nycwax.com beginning March 11 for details about how to be part of the R-Pattz fandemonium."