As many of you know Jackson Rathbone and the members of his band, The 100 Monkeys, lost a very dear friends of theirs, Spencer Bell, to adrenal cancer a number of years ago. Their current cross-nation tour has several stops where they are trying to raise money for research on this disease and to support the Spencer B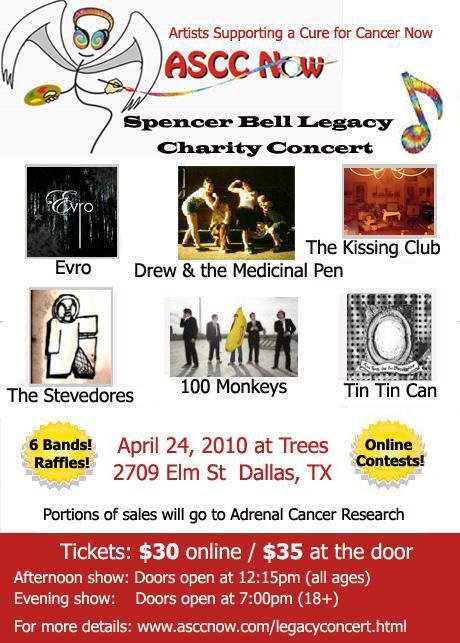 ell Foundation. So below are the details on where you can see the group and support a great cause.
Mad Hatter Contest
A new Spencer Bell CD and a new Spencer Bell Legacy t-shirt will be available at the Dallas concert(see poster to the left). The CD will also be available at Bamboozle, a music festival held on May 1 and 2 at the Meadowlands Sports Complex in NJ.
100Monkeys will perform there on May 1.
Exciting news for 100Monkeys fans!! They will be playing at Poor David's Pub in Dallas on Friday night before the SBL concert.
Show is on April 23rd. Doors open at 8, show at 9pm. Tickets are $14 and
are on sale now. Frontgate tickets is the site to purchase tickets.
In addition to the concert, Kelly Garrett Rathbone will be at the Deep Ellum Arts Festival on April 2-4, 2010 in Dallas, TX. She is creating a collection specifically for this festival and has generously agreed to
donate part of her profits to adrenal cancer research.
http://www.asccnow.com/events.html
There is also a college radio station (wsinradio.org) playing Spencer
Bell and 100Monkeys music at 9-10 Wednesdays eastern standard time and
it streams worldwide (the dj posted this information at 100Monkeys official music site.