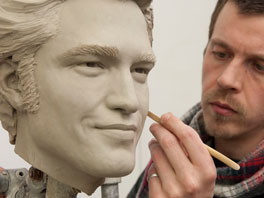 Perhaps the world's most famous wax museum is adding Robert Pattinson to their Hollywood stars collection in their flagship, London museum. The price for this in American dollars is roughly $225,000. According to the museum's site:
"We expect to spark fan frenzy today as we've just confirmed the next actor to be admitted into our attraction is the hottest celebrity of the moment, Brit born A-lister and star of the phenomenally successful Twilight saga, Robert Pattinson. The wax figure of the British heartthrob will be revealed in March, ahead of the release of his latest film, Remember Me, in early April.
The studios team are busy recreating R-Pattz's trademark sultry expression and messy hair, whilst the figure's outfit will reflect his rugged style with an open collared shirt and skinny trousers. The figure making process takes four months of intense work to complete at a cost of £150,000. …"
See the rest at the museum's main site. No word if they will also commission versions for their New York and Las Vegas museums.