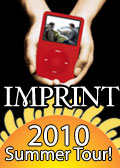 It's no secret that we are friends and fans of Andrew and Matt from Twilight Source who run the Imprint Podcast. In fact Pel was a HUGE fan going back to their Mugglecast days.  Alphie teased her a lot about going all fangurl on them the first time they met.
In any case we are even more excited today because Imprint, in conjunction with Borders, has a summer podcast tour going on that is crisscrossing the USA.
Check out their site for the Borders location that is closest to you.  We are looking forward to joining them at their New York, Boston, and Atlanta stops.
So check out the schedule, we can guarantee that this is something you won't want to miss.