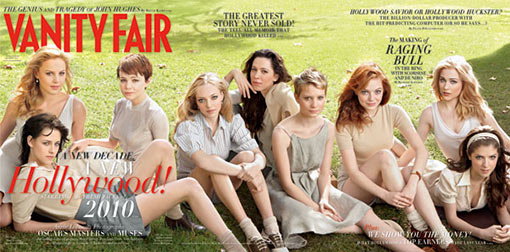 Vanity Fair's new cover features one of their regular pieces that they have been doing for a number of years: a piece on rising female talent in Young Hollywood. This year it has drawn fire because of it's utter lack of diversity for the second year running.
No one is discounting the talent of the actresses involved in the cover or accusing them of anything inappropriate, but Hollywood insiders are wondering where other names are. Yahoo's shine stated, "Every woman on its new cover is extremely thin and very, very white. Unless Vanity Fair considers one redhead to be diversity, we feel the need to cry foul." EW has a pole asking which of the lot will be remembered in 10 years. Currently Anna and Kristen are doing very well in that pole.
So what do you think? Did vanity fair miss the mark? Will Anna and Kristen have substantial careers 10 years from now?