Alphie here chiming in, as promised, on what happened at Charlie Bewley's Q & A panel on Sunday at the Official Twilight Convention in Nashville.  This story actually goes back a few conventions to the point where Charlie started talking about the amazing abilities the Volturi have and how he would love for them to really show off just how strong they are.  He referred to his own character as a super version of himself, or rather Super Demetri.  We loved it and laughed and tweeted about it.  Then at the next convention, he went off on a similar tangent about Super Demetri.  After the third time hearing him talk about it in Miami, Be My Escape said we simply had to make him a "Super Demetri" t-shirt.  She spent the evening manipulating the Volturi logo to add an S and a D with the words "Super Demetri" underneath.  The plan was to eventually give it to him at a future convention that BME and I both attended.
Read the rest of the story and see images under the cut.
A little over a week later, we got the news that Kellan Lutz pulled out of Nashville and that Charlie was his replacement.  Immediately I called BME on the phone and told her to get the t-shirt printed and bring it to Nashville with her since she was scheduled to be at this one with me.  It was even better that Charlie's birthday was just a few days ago and we could give this to him as a belated gift.
So at the convention we asked those in charge if we could steal two minutes of Charlie's time so we can give him this gift.  They said yes since this was related to something he had said at various Creation conventions.  We gave him the shirt, to which he laughed and asked us where the trunks were to complete the outfit!  He thanked us, and on a whim, I dared him to wear it.  Honestly, we gave it to him as a total joke never expecting him to ever wear it.
But the joke was on us!
Charlie's panel was the last panel of the day.  The cast of the Hillywood show usually runs the Q &A segment with the actors.  However, they had to catch a plane and were going to miss Charlie's panel.  BME and I were asked if we could run the  questions.  Of course we said yes, but that meant that we couldn't tweet anything that Charlie said.  Disappointing, sure, but I figured we'd be able to catch people up later without much ado.
Charlie came out on stage dressed rather uncharacteristically.  He had a scarf on with a jacket, rather than his usual stylish relaxed t-shirt look he usually goes for.  I didn't think much of it since I've seen actors wear some really odd things on stage.  We started his questions and got about three or four questions in when it all went crazy.
Charlie pointed at BME and I and said something like, "I have to stop a moment and thank you two ladies from the Twilight Lexicon.  Both of you.  Thank you for the little… thing… you gave me earlier."  He pointed at us and winked a little.  I was blushing bright red at the possible innuendo and was just about to say something back to him when he started to strip.  Well of course, the audience went insane!  His scarf came off, then his coat came off revealing… the Super Demiti t-shirt.

Everyone was screaming and laughing, myself included.  I don't know exactly what he said at this point as I had tears in my eyes from laughing so hard.  He kind of bounded around the stage a little bit acting like a super hero.  I have no clue what was going on as I was just flat out rolling with laughter.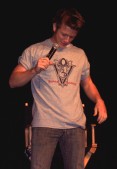 So then he points out that he signed the t-shirt, and as much as he loved the shirt he felt that a fan would love it even more.  He then proceeded to lift up his shirt and pull it off.  Once again, massive amounts of screaming followed.  But we all were faked out as Charlie had his signature t-shirt on underneath.  We did see a little bit of bare tummy and bare back as he wiggled out of the shirt, but that was all.  He ended up chucking the shirt out into the audience, which only brought on more screams and such.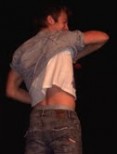 And because I was holding a microphone and a stack of questions, I was totally and completely unable to tweet or even take a photo of this fantastic moment!  GAH!  Thus many thanks go to Adilia who was sitting front and center and was so gracious to send in her photos of Charlie so we could have them.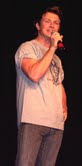 The rest of his panel went off like his panels always do with him telling some really crazy stories and getting side tracked, but the t-shirt moment was by far  the best.  So here's a quick rundown of some things I can remember that I would have tweeted if I had the chance.
When asked what other Volturi power would he like to have, Charlie did a quick run down of the powers, making fun of "the mist" ability.  "Ohhhhh here comes the mist!  And it takes about five minutes to actually get to you.  Yeah, that's scary!"  He eventually said he'd take Jane's power but that he likes Demetri's speed, so he wouldn't want to lose that.
When asked about a favorite memory, he told this rather lengthy and detailed story about a snow boarding trip (I think it was snow boarding…) he took where he saw the most amazing view that appeared like the heavens opening and then a bald eagle was flying just a few meters in front of his face.
Several times he mentioned the fact that he was Kellan's replacement and asked if he was doing a good job.  He made some good-natured jokes about Kellan and then warned "Don't tweet that, Lexicon!  I don't want Kellan angry at me!"  He actually said that many times.  "Don't tweet that, Lexicon!"  It seems our tweets are stirring up trouble! LOL
He said that his costume in Eclipse is fantastic and that he would have liked to have kept the coat.
He said he is working on several pilots for TV and hopefully one will get picked up.
He said that it takes him forever to read and that he has read the books, but that it would be better for him if all the emotional detail was gone!  He said Stephenie can write paragraphs on just what Bella is feeling about one word and that it's too much for him.  He's too slow of a reader.  This whole answer was very funny!
In all, he was great fun and the audience got a really great show from him… as always!  Personally, we want to thank Charlie for being a good sport about our t-shirt and for making it an impossible memory to forget.  In honor of this special event we are going to give away a signed glossy photo of Charlie to one of our users.  If you would like an autographed photo of Demetri, just answer the following trivia question in a post below.  We will pick a winner at random at 10:00 pm EST on Wednesday Feb. 3.  Many thanks also go to Creation Entertainment the Official Twilight Convention for providing the autographed photo for our give away.
TRIVIA QUESTION: What did Charlie do style-wise to ensure that he'd look the part of Demetri at his audition? (Check the Lexicon Twitter for the answer)