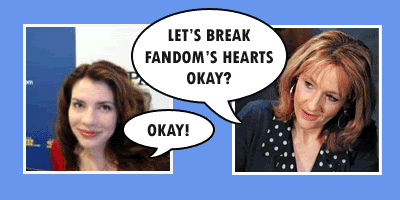 It's been no secret that there is a strong Twilight presence at this year's Oscars. Taylor Lautner and Kristen Stewart are both presenting and Anna Kendrick is nominated as Best Supporting Actress for Up In the Air.  It looks like that producers wanted an even bigger pop culture match up, but it didn't quite work out. According to the LA Times:
"The producers said they feel a certain momentum surrounding the movie industry this year and are keen to make the show as widely appealing as possible. This means doing things like bringing in teen sensations Miley Cyrus, Kristen Stewart and Taylor Lautner to present. (The pair even wanted " Harry Potter" author J.K. Rowling and "Twilight" scribe Stephenie Meyer to present the adapted screenplay category, but Rowling was unavailable because of scheduling conflicts and Meyer, who is a Mormon, does not work on Sundays.)"
Too bad the Oscars are on Sunday and JK Rowling's schedule didn't work out.