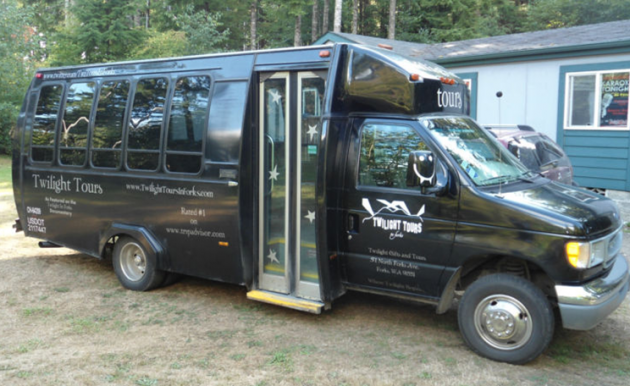 The Twilight Tour bus from Forks that was initially owned by Dazzled By Twilight and later Twilight Tours is now up for sale. According to their EBay description:
TWILIGHT TOURS IN FORKS TOUR BUS, AS SEEN IN TWILIGHT IN FORKS DOCUMENTARY, DESTINATION FORKS DOCUMENTARY, SHOWTIME, TODAY SHOW AND MANY MORE MEDIA OUTLETS ACROSS THE GLOBE. 

FORD 350-ECONOLINE 1997 PASSENGER BUS.  THIS BUS HAS CONDUCTED TWILIGHT TOURS IN FORKS AND THE COASTLINE OF LA PUSH, WASHINGTON.  WE HAD THE PLEASURE OF HAVING PEOPLE FROM MANY MEDIA OUTLETS FROM ACROSS THE GLOBE, ONBOARD OUR TOUR BUS.  THIS VEHICLE BECAME A RECOGNISABLE SYMBOL BY TWILIGHT FANS FROM ALL OVER THE WORLD. 

 AFTER 4 WONDERFUL TWILIGHT RELATED YEARS IN FORKS, WASHINGTON, OUR FORKS JOURNEY IS COMING TO AN END.