Architectural Digest has covered the Isle Esme house before, almost a year ago (see Lexicon coverage here). Now they are back talking specifics with Richard Sherman.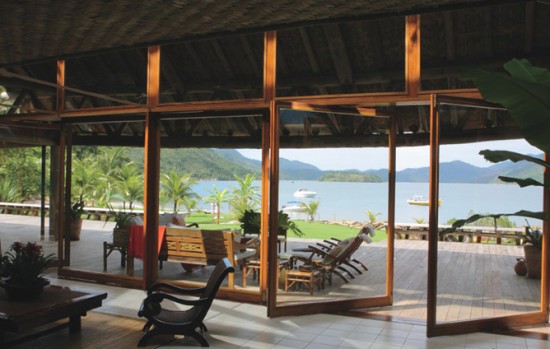 ARCHITECTURAL DIGEST: How did you choose the Bernardes + Jacobsen house for Edward and Bella's Brazilian honeymoon?

RICHARD SHERMAN: We looked at pictures and found a house we loved. But two days later we learned it was going to be blown up because it had been built illegally. The next morning I got on a plane to Brazil, hopped on a boat, and went through countless islands along the coastline south of Rio. It took us four weeks to finally find the Bernardes + Jacobsen house, which had a tropical modern interior and was located near Paraty on the coast that we liked.


AD: Did you change anything about the house?

RS: For the movie we actually created our own exterior—what's visible when you approach the house by boat—in the visual effects department. What you see of the real house is the front door, the steps leading up to it, the veranda, and all those glass doors. I loved the interior. We made a big open kitchen and living room. Some of the scenes that take place inside the house were actually shot on soundstages in Louisiana, where we created a courtyard, a bathroom, and the bedroom where Edward and Bella spend their wedding night. It was a seamless set—you really couldn't tell the difference between the house and our stages.

AD: How closely did you follow the descriptions in the book when filming in Brazil?

RS: In some cases we really veered away from the book. What works well on the page doesn't always work well on film. The location was challenging. Stephenie Meyer, who wrote the novels, set the honeymoon on an island in the middle of nowhere. Brazil is famous for its many islands down the coastline from Rio to Paraty. When you look out from the location where we shot, you don't just see a horizon of water, as she wrote, but all these beautiful tropical islands. In the end it all worked out very well.
Read more on Architectural Digest
Via TwiFans