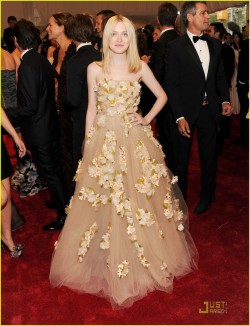 According to Contact Music, Dakota Fanning will be the new face of the Lola perfume line:
"Marc Jacobs chose Dakota Fanning to be the face of his new Oh, Lola perfume because she is "seductive and sweet".
The designer has been a big fan of the 'Twilight Saga: New Moon' actress for some time and considered her perfect as the face of the fragrance thanks to what he calls her "Lolita" qualities.
He said: "I've been a big fan of Dakota since the first time I saw her in a movie.
"When we were speaking about who to use in the Oh, Lola fragrance ads – I had recently seen The Runaways. Dakota was in it, and I knew she could be this contemporary Lolita, seductive yet sweet."
See more on Contact Music