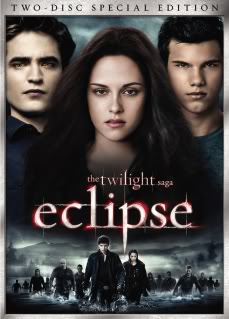 Apparently Summit isn't concerned, it's all part of a 4-week, holiday roll out with more advertising planned.
According to Home Media magazine:
"Eclipse, the third film in the "Twilight" franchise, still has plenty of bite with consumers.
The DVD and Blu-ray Disc of the film, which grossed $300 million in U.S. theaters, went on sale at midnight Friday, Dec. 3, and after two days had already sold some 3 million DVDs and Blu-ray Discs, according to Summit Home Entertainment.
The tally falls short of what either of the first two films did on their respective disc openings, but the marketing strategy is different and the release is expected to have longer legs throughout the holiday season, said Steve Nickerson, president of Summit Home Entertainment.
"With the first two titles, we had massive March opening events involving thousands of retail stores," Nickerson said. "We were going for a big bang, right out of the gate. This time we are releasing the film during the holiday season, a much more crowded time and one with vastly different consumer shopping patterns. So our whole plan is to look at what we're doing over a four-week period of time, and not a single night."
See more on Home Media Mag
Via BAE