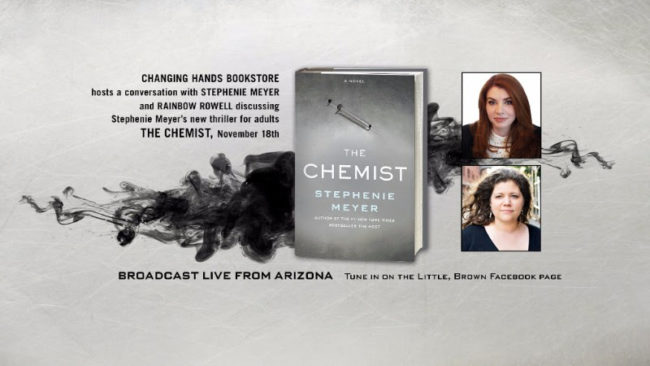 Little, Brown and Company, announced today the event for THE CHEMIST, mega-bestselling author Stephenie Meyer's first thriller. Changing Hands Bookstore in Arizona will host a conversation between Stephenie Meyer and author Rainbow Rowell on Friday, November 18, 2016 at 6:30PM MT / 8:30PM ET. The event will be broadcast live on Facebook from the Little, Brown page.
About the book:
In this gripping page-turner, an ex-agent on the run from her former employers must take one more case to clear her name and save her life.
She used to work for the U.S. government, but very few people ever knew that. An expert in her field, she was one of the darkest secrets of an agency so clandestine it doesn't even have a name. And when they decided she was a liability, they came for her without warning.
Now she rarely stays in the same place or uses the same name for long. They've killed the only other person she trusted, but something she knows still poses a threat. They want her dead, and soon.
In this tautly plotted novel, Meyer creates a fierce and fascinating new heroine with a very specialized skill set. And she shows once again why she's one of the world's bestselling authors.