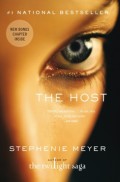 Stephenie Meyer talked to Andrew Sims in a great interview on Hypable (which seriously everyone needs to read because it has the the most detailed information on multiple topics fans are dying to know about). Andrew asked Stephenie about the status of sequels to The Host.
The Host came out in the spring of 2008. It was originally intended to have two sequels and to therefore be a trilogy. The other two installments were to be called The Seeker and the Soul respectively.
Here's what Andrew found out in his interview (read the full interview here)
Q: So other projects. The Host. There's been talk of a sequel. Is that —

SM: It's partially written. This is where I'm dealing with the most frustrating writer's block, where I just know everything that happens. Maybe I need to do it on my recorder and just have someone else type it up. I don't know.
Now as to other new works, at New York Comic Con, Stephenie mentioned a new project. Well it may be a lot closer than you thought.
Q: And you also revealed recently you're working on a separate book right now?

SM: I have one that's in the editing phase. I wrote the book, I have my edit packet. It's going to kill me. But it's a — it's not YA. It's not fantasy. It's a thriller set in today's — it's as realistic as the Jason Bourne movies are. It's in that kind of slightly heightened existence.

Q: It's for adults?

SM: It's not gonna be — I mean, a lot of people die — but it's not super hardcore. It's not like younger fans couldn't read it.

[Stephenie later revealed she hopes to have this book out next year.]