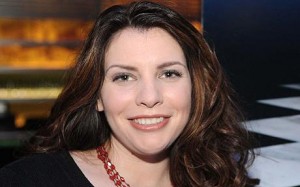 In an interview with APP.com, Stephenie talked about how it feels to have a 10 year old franchise.
"It feels like I'm super, super old," said Meyer, 39. "Like 10 years? Oh, my gosh, I don't know where it went. But it's amazing to stop and think back to my life 10 years ago and how drastically it has changed. I just wouldn't have seen any of it coming. If you had told me back then, 'Ten years from now you'll be promoting a movie you produced,' I'd have been like, 'What drugs are you taking?' It's so bizarre."
Stephenie also address the question every writer dreads: what are you working on next?
"See, back in the early days I used to tell people about all of the ideas that I had floating in my head that I assumed would become books at some point," she said. "But then, people have the expectation that it will be out in six months, and so I really don't talk about what I'm working on anymore because it changes a lot.

"I'll be working on something and then another idea will drag me away. I guess that's really my problem, committing to one idea and sticking with it. And so I'm not going to talk about what I'm working on right now."
Read the whole interview at APP.com.