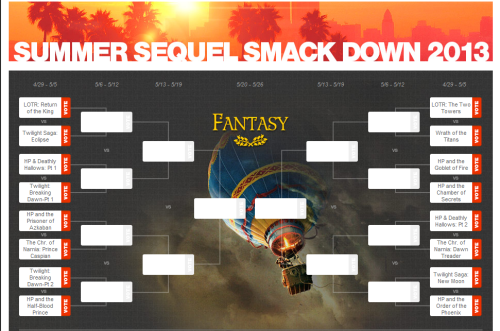 Moviefone is hosting the Summer Sequel Smackdown pitting popular fantasy film sequels against each other until a champion is crowned.
Here's how it will break down:
1. Every week for the month of May, fans can vote in our bracketed tournament to support their favorite fantasy sequels.
2. Only the highest ranked will advance onto the quarter-finals, semi-finals, etc.
3. At the end of the month, one movie will stand tall as the undisputed greatest fantasy sequel of all time –as voted by the people.
4. YOU CAN ONLY VOTE ONCE in each round. So if you really want to rally around a movie to win, you have to share and encourage your friends to vote too.
5. Each voting round runs from Monday to Sunday. The next Monday will reveal who advances onto the next round.
6. Once the top fantasy sequel is named at the end of May, it will move on to our end-of-summer grand finale, where it will compete against the top-voted sci-fi, action and comic book sequels to name the best sequel of all time.
In this first round New Moon takes on Order of the Phoenix, Eclipse is against The Return of the King, Breaking Dawn Part 1 is against Deathly Hallows Part 1, and Breaking Dawn Part 2 takes on The Half Blood Prince. There are other options as well, but knowing the voting power of the Twilight Fandom, I'm sure we can manage to get a film all the way to the end.  You can vote once for each duo, which allows you to vote for each Twilight Saga film in this first round.  So our goal this week is to encourage all of the fans to vote for each film in this first round.