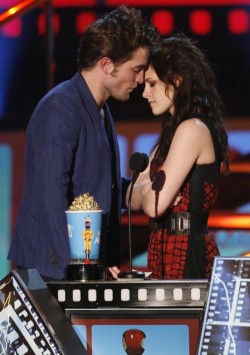 Twilight Fans have always looked forward to the MTV Movie Awards. After winning 15 MTV Movie Awards and having swept the Best movie and Best Kiss categories for the last several years, fans expected several nominations as well as a sweep again this year. But as most of you know, Breaking Dawn Part 2 was snubbed out of all nominations except for Best Shirtless Performance for Taylor Lautner… and he only takes his shirt off once in this film!
As an answer to the snub, Twilight fans are encouraged to skip the awards this year, even though Taylor Lautner will be at the ceremony. Instead, we ask that you watch Breaking Dawn Part 2 and jump on twitter to tell the world your feelings. Use the hashtag #BreakingDawnPart2Night every time you tweet.  
So… are you skipping the awards this year?  Let us know in the comments.  
Read more at the International Business Times.