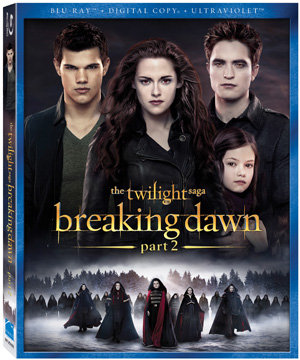 One again, the various bonus footage you will get with your DVD/Blu-Ray copy of Breaking Dawn Part 2 will vary depending upon where you buy it.  Here is the break down for the versions at Target and Walmart.
At Target, if you pre-order the film you will get a free 30″ x 40″ Breaking Dawn Part 2 movie poster which Target is valuing at $9.99.  The 2 disk Blu-Ray and 3 disk DVD will come with the 7 part behind the scenes feature, the director's commentary, and a digital copy.  The Blu-Ray is priced at $22.99 and the DVD at $17.99.
Over at Walmart there is no gift with purchase, but the price is lower.  The Blu-Ray is going for $19.99 and the DVD for $14.96.  Both of these versions appear to be the same as what you will get at Target from the look of the box cover, including the digital copy.  
However Walmart is going one step further and offering something Target doesn't have.  You can order Breaking Dawn Parts 1 and 2 together which includes the extended edition.  There are no details on the site as to the bonus features on this combined set, but Hypable is reporting that the combo set does not come with the extra features.  We're currently checking with Summit/Lionsgate for this info.  The DVD is priced $22.96 at and the Blu-Ray at $24.96.  
Lastly, we've seen many of you asking about deleted scenes from Breaking Dawn Part 2 and the concern over having to buy the film again in 6 months just to get those deleted scenes.  We voiced your concerns to Summit/Lionsgate and were told that there wasn't much footage from Part 2 that was cut – at least not enough to include a deleted scenes section on the DVD or a future extended edition.  It also appears from the footage of the 7 part behind-the-scenes documentary that we might see some deleted moments in there.  It might not be the answer you are looking for, but we wanted you to know that we have made sure Summit/Lionsgate has heard your concerns.