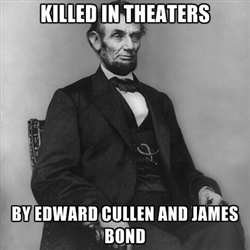 What do you get when you add Abe Lincoln, James Bond, and Edward Cullen?  You get one very busy weekend at the box office! We couldn't resist the meme on the left.  For the second week in a row, Breaking Dawn Part 2 is at the top of the list.  According to the New York Daily News:
Breaking Dawn – Part 2," pulled in $43.1 million from Friday to Sunday, raising its domestic total to $227 million. The movie added $97.4 million overseas to bring its international total to $350.8 million and its worldwide take to $577.7 million
Skyfall and  Lincoln came in second and third with new releases of Rise of the Guardians and Life of Pi coming in fourth and fifth.  Given that Thanksgiving hit the US pretty early in the month, movie makers expect this holiday season to be very busy at the box office!