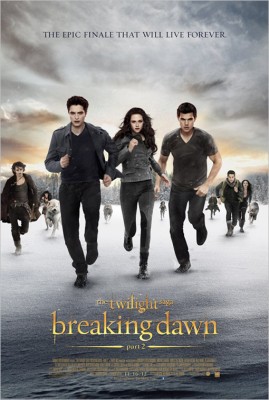 Catherine Hardwicke once said at a convention that Summit thought only 300 women in Utah were going to go see Twilight. They were obviously wrong. But the studio only spent $37M on Twilight.  Then producer Wyck Godfrey told the fansites on our New Moon set visit that because Twilight "made a little money" they were able to put more money into New Moon. Made a little money?  Twilight made $392.5M worldwide – almost ten times what it cost to make the film!  New Moon cost $50M to make and made $709.7M worldwide.  
Five movies into this massive money-making franchise and Deadline is reporting that Breaking Dawn Part 2 is set to make $275+M globally this weekend.  The film made $72.8M on Friday and $42.8M on Saturday in the US and Canada alone.  Over seas the film has earned  $38.8M.  Friday's numbers gave the series it's best opening day, but as Deadline says, every fan in the US and Canada is going to have to go see the film again today (Sunday) if we hope to break the weekend record of $142.8M for the series set by New Moon.  
Hypable posted the series stats for easy comparison.  Keep in mind that Eclipse was a June release and it opened mid-week, rather than on a weekend.   
– Twilight: $69.6 million
– New Moon: $142.8 million
– Eclipse: $175.3 million (Wednesday – Sunday total)
– Breaking Dawn – Part 1: $138.1 million
What do all these numbers mean?  It means that the franchise was a financial success.  While Breaking Dawn Part 2 didn't break all the records, it's still one of the top 10 opening days ever. It means that Hollywood should never under estimate the power of the female driven franchise.  Where this will take films in the future has yet to be seen.  But I think we can all agree that every studio in Hollywood is looking for another Twilight Saga.