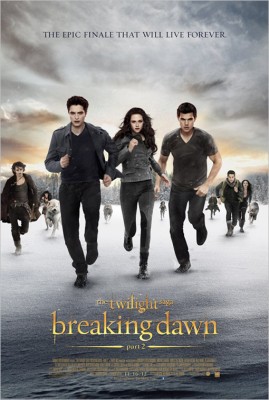 The reviews for Breaking Dawn Part 2 are rolling in. MTV did a round up of some of the comments, both good and bad, coming from all sorts of sources. Here are some of our favorites.
Variety

"A doozy of a finale to a series that, until now, has largely taken its dramatic cues from its maddeningly inert heroine. Not anymore: With Bella reborn as a bloodthirsty, butt-kicking vampire mama, this second of two Bill Condon-directed instalments clears a low bar to stand easily as the franchise's most eventful and exciting entry."

Herald Sun

"In terms of providing plenty of bang for one's buck, Breaking Dawn Part 2 definitely ends the franchise on a high note. And without wanting to give too much away, the unexpected twist at the end of the film (hear the fans gasp in surprise) works extremely well for a cinematic audience."

Daily Mail

"I can't deny that I didn't care very much for the four other movies. For the most part they were poorly made and badly acted… But somehow the final film has stuff to say about love, friendship and loyalty that works."
As is typical in our fandom, there are plenty of people who just don't like Twilight and never will. So far, all of the fansite reviews state that the final film is the best of the five. To read the Lexicon's review from Laura, visit this link.