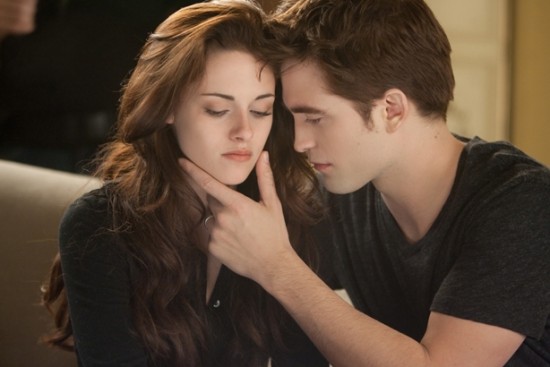 Along with other fansites, we had the opportunity to see Breaking Dawn Part 2. If anyone had any fears of being disappointed after seeing what Bill Condon did last year with Breaking Dawn Part 1, those fears should have been put to rest. Bill Condon has again delivered and amazingly detailed and action packed film filled with drama, romance, and tears.
Some mild spoilers lie ahead, so if you want to be completely spoiler free, best to stop reading now.
The film opens minutes after Bella's transformation. Her eyes open and she is a vampire. Without question, we know this is a new Bella. She is graceful, confident (grabbing Edward in a back breaking hug), but even more clearly she a newborn vampire. There are moments in Bella's first hunt where you can see the feral desperation of the newborn trying to quench her thirst.
Speaking of feral Bella, one of my favorite scenes in the novel Breaking Dawn is Bella confronting Jacob about imprinting on Nessie. Kristen Stewart is fantastic at playing protective mother. It's one of those scenes where we not only get drama, but some of the great comedic talents of Robert Pattinson, Kristen Stewart, and Taylor Lautner shining through. Deadpan humor by Edward as the scene unfolds is hilarious not to mention Bella throwing Jacob around like a rag doll.
One of the great things about the movie is early on there is a fair amount of comedy: Bella overpowering Edward, Bella beating Emmett at arm wresting, but the real standout is Jacob explaining to Charlie why things are different now with Bella. It's a scene we only hear about in the novel because Bella wasn't there to witness it. To quote Melissa Rosenberg, "It makes you wonder how that went down. Did he just burst into fur, or what?" He bursts into fur all right, but the conversation before that is a tribute to Billy Burke's and Taylor Lautner's comedic talents. The situation equally is awkward and hilariously funny.
Now don't worry, the humor doesn't overshadow other parts. There is romance. If fans thought the honeymoon was steamy, wait until the cottage scene. Vampire Edward and Bella the first time…yes, let you imagination go there. The movie delivers more than I thought would be possible in a PG-13 film.
Arguably the hardest part in this film is Renesmee. We've all probably had our doubts, is she cute and not creepy? Can she act? Is she too old? The movie magic the experts who brought us the Benjamin Button film managed is unreal. There are such touching moments from Bella holding her daughter the first time, to Renesemee playing the piano with Edward, to Bella telling Renesmee what her locket inscription means. MacKenzie Foy, who plays Renesmee, is gifted beyond her years.
Of course, as is the case in the novel, things don't stay peaceful for the Cullens too long. Irina sees Renesmee at a distance and thinks she is an immortal child, setting the confrontation in the film into motion. Witness vampires must be obtained. There are some great scenes again with our view expanded beyond Bella's. Carlisle and Esme travel to Egypt getting a first hand demo of Bejamin's powers. Emmett and Roaslie hit New Orleans and get nomands including Garret, played with a rock and roll swagger by Lee Pace. Bella and Edward head North with Jacob to get the Denalis
The story of the Immortal children is told in a flashback scene using the Denali sisters, their mother, and Jane. It is equally gut-wrenching and terrifying. The ruthlessness of Volturi justice is clear. There is no margin for error, you disobey and you pay with your life in a gruesome end. We had a taste of vampire destruction in Eclipse, but Breaking Dawn ramps it up to a whole of visual and emotional level.
Of the new vampires, almost 30, there are some real stand outs. Lee Pace as Garrett instantly falls in love with Kate and the audience falls for him. Joe Anderson's Alistair is the perfect foil to Cullen optimism. However, the most memorable are, as Jacob puts it "Dracula one and two". Noel Fisher and Guri Weinberg are outstanding as the Romanian coven, especially as they tell of their former days of glory. The one regret I had watching the film, was that we don't get to see more of the individual vampires. They are all there, but they are so real you want more of each. Of course that would have resulted in a nine-hour movie, but still you are left wanting more time with each of them.
Now much has been made of the "battle scene" which granted is not in the books. As a fan, I can tell you I was mesmerized, completely transfixed wanting to know what happend next. The sequences are incredibly detailed. When time comes for the DVD, I'll be hitting pause and rewind to catch what is happening to individuals over the broad space. The scene not only pulls on your heartstrings but will have you cheering and fist pumping the air. The two standouts are Ashley Greene as Alice and MyAnna Buring as Tanya, vengeance is theirs! How does this all reconcile with what is in the books? It does, that's all I'll say without spoiling the ending, but it does. In fact it's a really, really satisfying reconciliation.
Eventually Bella and Edward get their happily ever after. Bella removing her shield is done in a wonderful and touching way. Bill Condon really has a gift for knowing what will touch fans' hearts and he does it here. They have their perfect piece of forever, and fans will leave the theatre misty-eyed if not out-in-out weepy.