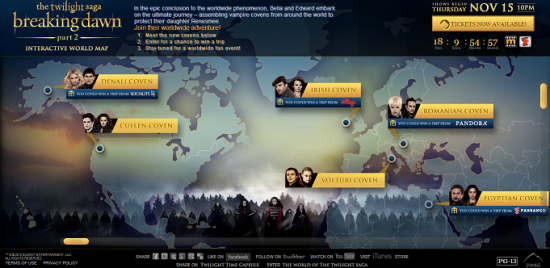 SUMMIT ENTERTAINMENT LAUNCHES INTERACTIVE WORLD MAP OF THE TWILIGHT SAGA
HIGHLIGHTING THE MYTHOLOGY AND GLOBAL SCOPE OF
'THE TWILIGHT SAGA: BREAKING DAWN – PART 2'
The Interactive World Map Launches On Twilight.com, and Includes Partnerships
With Seven Leading Online Sites Providing Global Sweepstakes Prizes
Santa Monica, CA November 5, 2012 – Summit Entertainment, a LIONSGATE® (NYSE: LGF) company, has created an Interactive World Map  for THE TWILIGHT SAGA: BREAKING DAWN – PART 2. The final chapter in THE TWILIGHT SAGA unveils the mythology of vampire covens around the world and introduces multiple new vampire characters. The Interactive World Map highlights the global hotspots of these vampire covens, along with photos and information about these characters, their powers, and their relationships to the Cullens and the Volturi.
The Interactive World Map launches with a Global Getaway Sweepstakes, where users can enter to win trips to one of seven destinations featured in the film – including Alaska, Brazil, Egypt, Italy, Ireland, Japan, and Prague. Sweepstakes prizes are provided by online partners Amazon, Fandango, iVillage, Moviefone, MovieTickets.com, Pandora and Socialite Life.
In the coming days, a worldwide stunt will be added to the Interactive Twilight World Map, where fans around the world can collaborate to reveal the exclusive music video of Paul McDonald & Nikki Reed's song "All I've Ever Needed" from the official soundtrack.
The Interactive World Map can be found online at http://twilight.com/ and can be viewed on desktop and iPad/tablet.