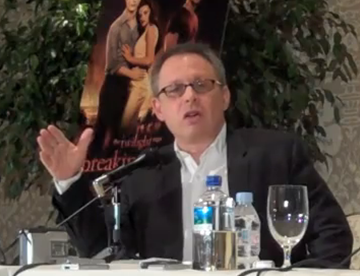 The action kicks off tomorrow around 10:00ish pacific time (these things can run a little late so use times as a guideline). Expected are:
the Cullen coven members, 
Melissa Rosenberg, Wyck Godfrey, Stephenie Meyer.
Michael Sheen
Taylor Lautner
Robert Pattinson
Kristen Stewart 
Bill Condon
We will live blog the event internet connection permitting. Last year we had the chance to ask several questions during the event. If you could ask any of the above anything Twilight related, what would it be? Tell us in the comments, maybe we'll use your question.