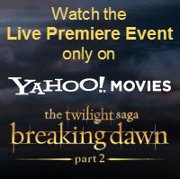 Just like last year, Yahoo Movies will be providing a live look and commentary during the Breaking Dawn Red Carpet Premiere next week.
Yahoo! Movies presents the final installment of "The Twilight Saga Breaking Dawn – Part 2". Don't miss your chance to see the all of the red carpet action as your favorite werewolves and vampires walk down the red carpet for one final time.
Join the fun and tune in to watch exclusively on Yahoo! Movies on Monday, November 12 at 5:30PM PT/8:30PM ET.
When: November 12, 2012
How: http://yhoo.it/BD2rsvp
Tickets are on sale now: http://yhoo.it/BD2tix
---