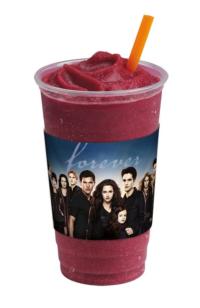 Well, this one is no more strange than say the Burger King partnership for New Moon. Here's the press release, of note is a red carpet giveaway.
Jamba Juice Company (NASDAQ: JMBA), a leading healthy, active lifestyle brand, in partnership with Summit Entertainment, a LIONSGATE® company, proudly announces the debut of the all-new Berry Bitten™ smoothie to celebrate the upcoming November theatrical release of "THE TWILIGHT SAGA: BREAKING DAWN – PART 2." As part of the special promotional activities around the long-awaited conclusion to the beloved film series, Jamba® is also sponsoring a "THE TWILIGHT SAGA: BREAKING DAWN – PART 2" Premiere Sweepstakes on Facebook, in which one lucky fan will win a Grand Prize trip for two to attend the world premiere screening of the film on November 12 in Los Angeles.
Jamba's Berry Bitten smoothie is a low-fat and nutritious beverage made with real whole fruit—guiltlessly satisfying. Like all Jamba smoothies, it contains no high fructose corn syrup, artificial flavors, or preservatives and has 0g trans fat. For a limited time only, customers who purchase a 24-ounce Berry Bitten smoothie at participating Jamba Juice® retail stores will also receive, free of charge, one of four collectible movie-branded slap bracelets featuring their favorite characters from "THE TWILIGHT SAGA: BREAKING DAWN – PART 2."*
"Jamba Juice is honored to have been selected as one of the innovative promotional partners to collaborate with Summit Entertainment in promoting the final installment of THE TWILIGHT SAGA film franchise," said Julie S. Washington, Senior Vice President and Chief Brand Officer, Jamba Juice Company. "At Jamba we are always thinking about the best ways to engage and entice our fans and we are thrilled to offer this exciting, multi-dimensional promotion which we believe will amplify the fun and excitement associated with both brands."
Summit Entertainment, a LIONSGATE® company, will release "THE TWILIGHT SAGA: BREAKING DAWN – PART 2" in theatres on Friday, November 16, 2012.
The astonishing conclusion to the TWILIGHT SAGA franchise, "THE TWILIGHT SAGA: BREAKING DAWN – PART 2" illuminates the secrets and mysteries of this spellbinding romantic epic that has entranced millions.  Academy Award® winnerBill Condon directed both the first and second parts of the two-part finale starring Kristen Stewart, Robert Pattinson and Taylor Lautner. The film, based on the fourth novel in author Stephenie Meyer's "Twilight" series, was written by Melissa Rosenberg with Wyck Godfrey, Karen Rosenfelt and Stephenie Meyer producing.
Jamba Juice fans can learn more by becoming a Jamba Insider at www.JambaJuice.com/insider, liking our page on Facebook at www.Facebook.com/JambaJuice, following us on Twitter at www.Twitter.com/JambaJuice.