Every year with contests and charity auctions there is a way for people to attend the Twilight premiere. Here are two that popped on our radar.
Charity Buzz for Autism research auction. Walk the Red Carpet at the Exclusive LA Screening of Breaking Dawn Part 2 on November 12, 2012, Walk the Red Carpet, Plus Attend the After-Party Be the first to see this highly anticipated film (premieres nationwide on Nov 16th). Bid to win two tickets to the exclusive screening of the premiere being held at the Nokia Theatre at LA Live on November 12, 2012. You and a friend will live it up like a celebrity, walking the red carpet before the movie, sitting in assigned VIP seats for the premiere, and attending the private after-party! All proceeds from this auction will benefit the Autism Research Institute.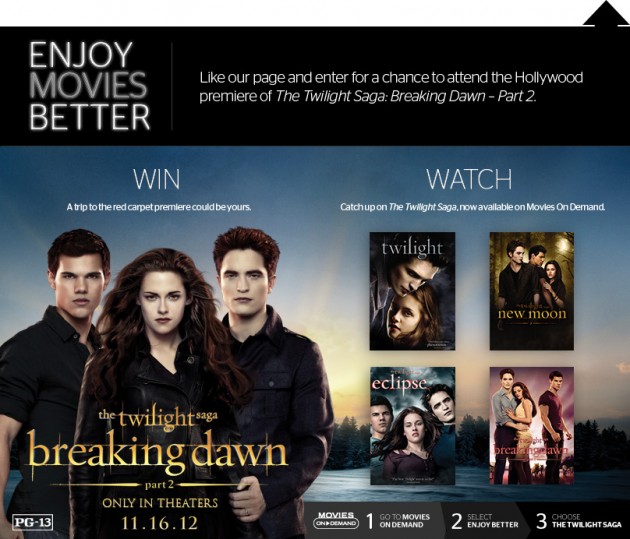 Time Warner Cable Facebook contest
No Purchase Necessary. Void where prohibited. Enjoy Movies Better: The Twilight Saga: Breaking Dawn – Part 2 Sweepstakes presented by Time Warner Cable is open to legal U.S. residents who reside in a serviceable area of Time Warner Cable or Insight Communications and those living in the same household in the following states/areas: AL, AZ, CA, CO (only in Gunnison), GA, HI, ID, IL, IN, KS, KY, ME, MA, MI, MO, NE, NH, NJ, NM, NY, NC, OH, PA, SC, TN, TX, VA, WA, WV, or WI, and 18 years of age or older. Starts 10:01 a.m. ET 10/1/12 & ends 11:59 p.m. ET 10/21/12. For the official rules and complete details, click here. Sponsored by Time Warner Cable Inc.
To receive all services, Digital TV, remote and lease of a Digital set-top box are required. Some services are not available to CableCARD customers. Not all equipment supports all services. HDTV set and HD set-top box are required to receive HD service. All services may not be available in all areas. Movies On Demand are optional services available for an incremental charge. To receive 3D service, a 3D TV purchased after March 2010 and compatible 3D glasses are required. The compatible HD converter must be connected to your 3DTV via an HDMI cable only (HDMI adapters, including DVI to HDMI are not compatible) and viewer must wear glasses that are compatible with their 3D TV. Subject to change without notice. Some restrictions apply. Movies On Demand Kids & Teens contains G and PG rated movies. Parents should supervise selections.
Motion Picture Artwork ™ & © 2012 Summit Entertainment, LLC. All Rights Reserved.