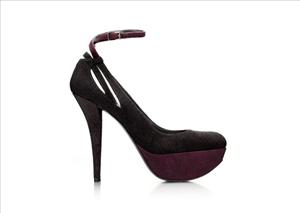 Nikki Reed is one of the stars who contributed designs for Stuart Weitzman's Young Hollywood Cares shoe collection.  Her shoe is a  stiletto with goose-bump calfskin.  Other celebs that contributed include Chloe Grace Moretz, Brooklyn Decker, Julianne Hough and AnnaSophia Robb.
Last year Weitzman raised $80,000, which was done without much promotion or publicity, Weitzman said.
"I want to be more visible," he said. "I have learned it's hard to ask people for money and it's harder to get them to give it, but if you have fun and make some noise, you can rattle it. You'll buy something, even if it costs a little more, but why not for a good cause?"
You can order Nikki's design from Weitzman website for $425.  Proceeds from the collection benefit research at the Folkman Laboratory at Boston's Children's Hospital. Read more about the program at CBSNews.com.