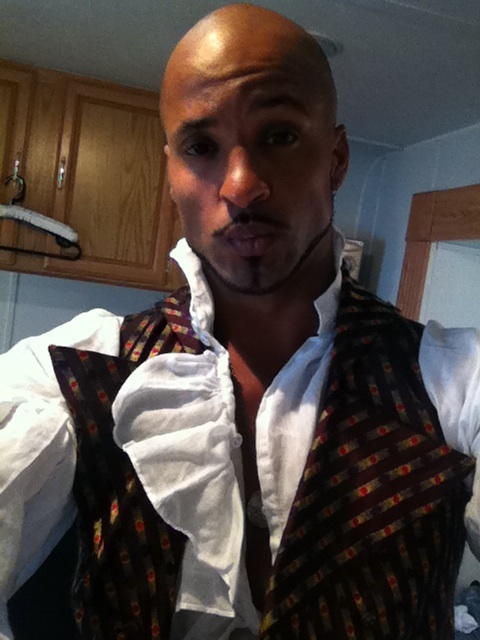 Last Summer, Stephenie Meyer's production company filmed Austenland, based on the novel by Shannon Hale. UK actor Ricky Whittle is one of the stars playing Captain George East. No word yet on when the film will be released, but this is what he had to say about the experience.
In Austenland, what resonated with you about Captain George East?

He's hilarious! He hits a little too close to home [Laughs]. The premise of the movie is a Jane Austen-themed resort, which Keri Russell goes to along with Jennifer Coolidge. The staff are all male actors who are basically hired to romance the women in old regency attire and speak in old English like in the Pride and Prejudice days. George is a former soap opera star who's obsessed with his body and is a ladies man. Even though it's not me, there were a lot of similarities. I work out and like to keep in shape. I've done a bit of soap in my time, and I definitely like the ladies. I thought, "Wow, this is perfect!" [Laughs] I tried to make him endearing. I gave him a childlike quality where he's very vain, but he's not aware of it. He's obsessed with his body but in a curious manner. He'll be checking out his bicep and trying to get a look at it because he's genuinely excited he has a new muscle. He's a very funny character. I did some of my best acting in the movie. It wasn't because of my craft, it was because I was trying to keep a straight face opposite Jennifer Coolidge. That woman is a comedy genius! It was my first step into comedy, and I learned a lot. Hopefully, I can talk that on to following projects.

It sounds hilarious.

It was crazy! Jerusha Hess really is an actor's director. She'd approach us and say, "You know your lines. You know the direction of the script and what's meant to happen. Go and play!" She worked with improvisation. She'd tell us, "Go too far, and then we'll bring it down." It was nice to have that freedom and trust from a director.
Check out more on Artist Direct