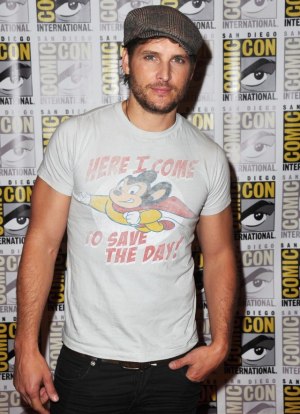 Vanity Fair asked Peter Facinelli to look back on his Twilight experience.
Julie Miller: How does it feel to be at your last Comic-Con for Twilight?

Peter Facinelli: It's a little sad. I'm going to miss the fans. They've treated us so well, at Comic-Con especially. But just because the movies are over doesn't mean the fans will disappear. I hope. Otherwise it will be me standing outside with a bunch of markers and no one who wants an autograph. [Laughs.]

Are you going to mourn Carlisle after the film opens in November?

I've mourned all of my characters but I haven't really mourned him yet. Maybe in December, I'll have a little vigil for Carlisle. Usually, when I wrap a character, there's a three-to-five day depression that I go through because a part of you is gone. You'll never get to play that character again. I got so used to playing Carlisle, though, that I never had to mourn the loss of him because I knew I would revisit him at some point. When we wrapped last time, I think we shot for six months. I wasn't ready to mourn him; I was just thankful to be done. I knew that also I would have Comic-Con and there would be press [for the movie], so he is kind of still with me. But I think in December, there is no more to talk about. It'll be complete.
See more on Vanity Fair