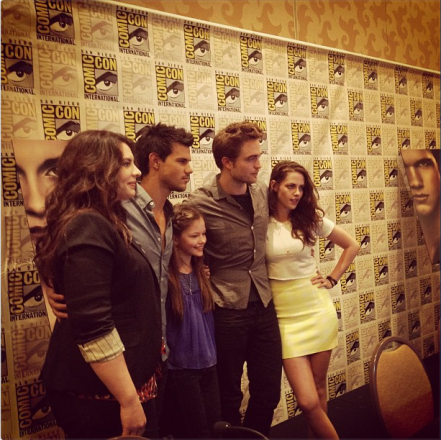 Hypable is running their coverage of the Breaking Dawn Part 2 press conference. They report:
When asked about a potential Twilight reboot, the answers were varying. Robert Pattinson said, "I pity the person who would take over my part, I would make a campaign against them!" Stephenie Meyer, meanwhile, wasn't quite as adamant against it, "It'd be really interesting in twenty years. But I do pity the person who tries to step into these roles. It won't go well."

When asked about what makes the Twilight phenomenon, Stephenie Meyer said, "It still surprises me all the time." With Taylor adding, "I think you're just humble about it. All the credit does go back to the books and the characters. We're extremely honored to be in this situation." It's clear these actors have a lot of respect and gratitude for both Stephenie and the novels she wrote, as they owe their fame to her.

Kristen Stewart, meanwhile, clearly takes the recognition in stride, saying about her being associated now with Twilight: "It's the hugest compliment. People who call me the Twilight girl and mean it. Please, pigeon hole me. That means I did it right."

For Mackenzie Foy, who plays Reneseme in Breaking Dawn – Part 2, the transition into the cast seemed natural. In fact, she even had a swear jar during filming, which was added to whenever someone on set swore. However, Stephenie Meyer said, "She never got a dime from me. Or Taylor."
To read the whole article, visit this link. To read the live blog text, visit this link.