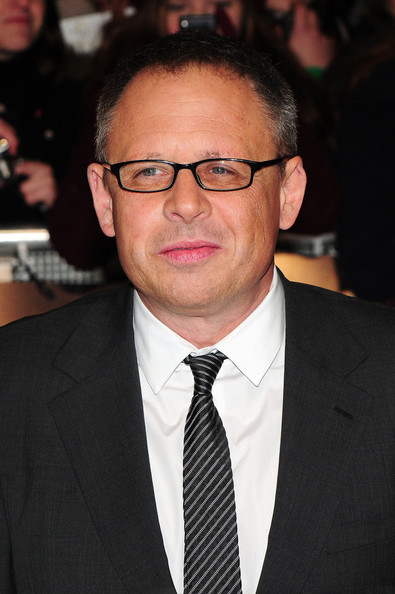 Those of you who follow us on Twitter were probably aware yesterday that Laura and several other Twilight site websmasters got the chance to meet Bill Condon, and to talk to him about Breaking Dawn part 2. We can't quite talk about what we discussed yet, but it was almost a 40 minute Q&A.
At the end of the Q & A we had a surprise thank you for Bill Condon. By the time Breaking Dawn part 2 comes out, Bill Condon will have been involved with Twilight for over two years. That's a lot of time and dedication. What's really generous is just how much Bill has embraced all things Twilight, not looked down on the franchise or fans, and really taken it all seriously.
So even though we know know that Bill won't get nominated for an OSCAR for this film, we didn't was him to go unrewarded. SO, we cooked up a bit of a scheme to give him a trophy that we dubbed the first ever Lion and Lamb Award affectionately known as The Lambie.
There was a lamb on the top of the trophy and inscription and then the sites' names underneath.
The inscription on the award reads
Line # 1: TO
Line # 2: BILL CONDON
Line # 3: FOR UNFLINCHING SUPPORT OF ALL THINGS TWILIGHT
Line # 4: WE PRESENT YOU WITH THE FIRST EVER
Line # 5: LION AND LAMB AWARD
Line # 6: THE FANSITES OF
Line # 7: TWIHARD NATION
Line # 8: JUNE 2012
The sites participating were
Bella and Edward.com
His Golden Eyes
Letters to Twilight
Team Twilight
Twilight Examiner
Twilight Guy
Twilight Facebook
Twilight Lexicon
Twilight Moms
Twilight Series Theories
Twilight Source
Twilightish