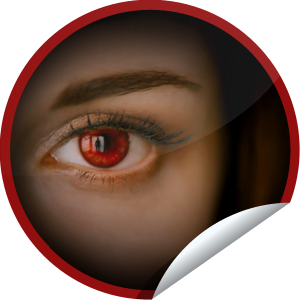 They don't leave these up there for long! Make sure you get yours on Get Glue!
In case you aren't sure what Get Glue is about from their FAQ;
What is GetGlue?
GetGlue is a social network for sharing with friends what you're watching, listening to, or reading. As you check-in to and rate your favorite shows, movies, and music you can unlock rewards, including exclusive stickers. As we get to know your personal tastes, we will show you suggestions based on your preferences, what your friends like, and what's trending on GetGlue.

What are stickers? How do I unlock them?
As you do certain things on GetGlue you will be rewarded with a variety of stickers for your achievements. They're a cool way for you to display to other GetGlue-ers the entertainment you love. While some stickers are easily unlocked, others are more mysterious and require you to figure out how to unlock them. Some are only unlocked by checking-in on a specific day during a specific time–these stickers are limited and will not be available outside of this window. You will be prompted to order your free, physical copies once you've unlocked 20 stickers.

Specials
Some stickers you unlock may have associated specials or rewards provided by our partners. Examples include a discount on merchandise or an opportunity to win a free item in a drawing. If you are eligible for the reward you will be notified by an application screen or by email. In order to claim some rewards, you may need to provide your mailing address, which may be shared with a partner in order to fulfill your prize. It is entirely up to you to claim and/or use the reward if you end up winning.