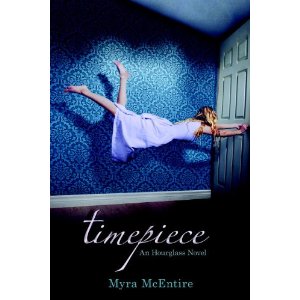 For those of you who have attended our Nashville movie events over the years, you've probably met Myra McEntire at the New Moon and Eclipse events scurrying around behind the scenes to make sure the whole thing happened without a hitch. Myra was doing thankless things like stuffing 500 giveaway bags and distributing raffle tickets. In fact, she ran the Eclipse event practically single-handedly because our main staff was in Utah at another event. As many of you may know, Myra's debut novel, Hourglass, can out last year to critical acclaim. MTV picked it as one of their top 2011 beach readsand the book was optioned by Fox for a movie. Well now the next book in the series called Timepiece is out today! Here is the official description:
Kaleb Ballard was never supposed to be able to see ripples–cracks in time. Are his powers expanding, or is something very wrong? Before he can find out, Jonathan Landers, the man who tried to murder his father, reappears. Why is he back, and what, or whom, does he want? In the wake of Landers's return, the Hourglass organization is given an ultimatum by a mysterious man. Either they find Landers and the research he has stolen on people who might carry the time gene, or time will be altered–with devastating results for the people Kaleb loves most. Now Kaleb, Emerson, Michael, and the other Hourglass recruits have no choice but to use their extraordinary powers to find Landers. But where do they even start? And when? Even if they succeed, just finding him may not be enough … The follow-up to Hourglass, Timepiece blends the paranormal, science fiction, mystery, and suspense genres into a nonstop thrill ride where every second counts.
You can snag a copy here.