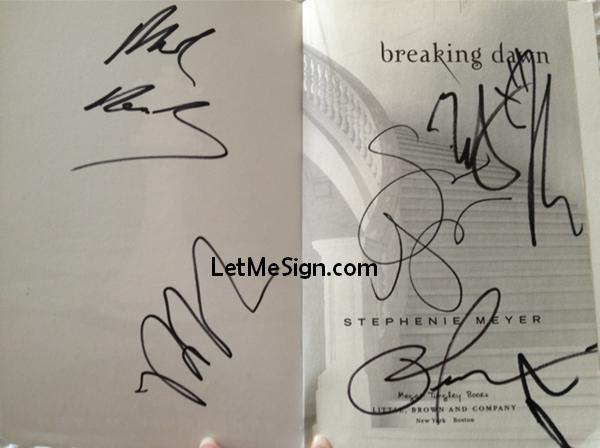 The crew over at Let Me Sign has just posted the following:
We at LetMeSign.com had the opportunity to attend the Breaking Dawn Part 1 premiere last year and met some of the cast and the creator of the series herself, Stephenie Meyer. During the days of tent activities and during the premiere I tried to get as many autographs on this book as I could, keeping in mind what I would do with it.

We are auctioning off this Autographed Breaking Dawn book at the Demi and Ashton Foundation's eBay Giving works page

The book is autographed by Stephenie Meyer, Melissa Rosenberg, Taylor Lautner, Peter Facinelli, Jackson Rathbone and Robert Pattinson.

100% of the proceeds will go to the Demi and Ashton Foundation to help the efforts to stop child sex trafficking and slavery as well as making more people aware of this happening in our country.

The auction is INTERNATIONAL

To bid on this book and help an amazing cause please visit the eBay page HERE

If you can't bid but still want to help find out how at the DNA Action Center Page or make a donation HERE and follow them on twitter at @dnafoundation

If you know someone or need help please call a national anti-trafficking hotline:
Children Of The Night: 1-800-551-1300, extension 0,
or Polaris Project: 1-888-373-7888.