This is a little off topic…all right it's a lot off topic, but perhaps it will amuse those of you who have been watching the troll that popped up lately every time we put up a MTV Movie Awards post. The troll which posted under several names claimed that Twilight was denigrating the seriousness of the MTV Movie Awards. The troll is still around *Hi little troll…waves* put we've managed to trap its comments so that just the mods have to read them and not the entire readership.
With the Teen Choice Awards up next, no doubt it will be around for awhile longer. Please vote over at Teen Choice if you are eligible!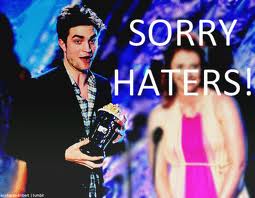 One of our Twitter followers sent us this (warning language, but it's a funny satire) all about dealing with Internet trolls, the musical version. If you are a fan of British TV, you'll recognize a lot of the faces.