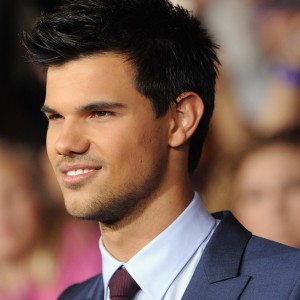 We had the good fortune to meet Taylor Lautner before all the Twilight hype struck and he was very down to earth. At the time he seemed like a typical high school kid. A writer for the examiner did the same thing only two years earlier. Here's how the rediscovered interview went down back in 2005, three years before Twilight was a blip on Taylor Lautner's Radar. The interview took place at a carnival inspired premiere of Shark Boy and Lava Girl in director Robert Rodriguez's home state Texas.
Jack Dennis (JD): So what do you think of being at a carnival for a premiere?

Taylor Lautner (TL): Oh, it's really fun. Everyone is having a good time and it's so nice here. We are excited to be here meeting everyone. This was a good idea. It's fun signing autographs and it's nice to see the others. It is a fun experience.

JD: Who is asking for autographs more, the boys or the girls?

TL: (laughs) Mainly, uh, the boys. But, you know, I sign for the girls too. (Grins and laughs again). But it is kind of weird. I'm not use to it. It's hard to believe they really want my autograph or picture, but it's fun.

JD: What would you say you learned most from him[director Robert Rodriguez]?

TL: (laughs) Well besides the 3-D stuff, I learned to be humble. Look at him. He's wearing a cowboy hat, bright blue cowboy shirt and jeans with holes in them. He likes this big star director, but he is down to earth and a lot of fun. We all loved him.
Somehow we don't think Taylor is signing for mostly boys these days! Read the rest at the Examiner!