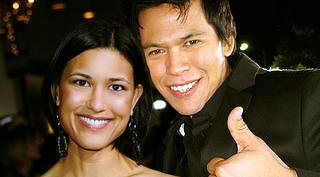 This press release just in:
Chaske Spencer, who plays the role of Sam Uley in the "Twilight Saga" Films is to be honored for supporting his work creating a positive shift in the lives of many. Chaske Spencer, star of The Twilight Saga film series: New Moon, Eclipse, and Breaking Dawn pt. 1 & 2 is to be honored on June 22nd, 2012 at the 6th Annual Shortstack™ Charity Fashion Show. He is receiving the Barbara Harmon Unsung Hero Award, presented annually to an individual in honor of their contribution to the lives of others. Their selfless service often goes unrecognized, and the Unsung Hero Award is intended to bring light to the work that they do. This award was founded in the memory of Barbara Harmon, an incredible woman who never received nor wanted the credit for the countless hours of community service and for the difference she made in the lives that crossed her own. From working with babies born addicted to drugs, to supporting adolescent youth in her community, to assisting at the World Trade Center disaster, Barbara Harmon embodied the spirit of true heroism.
The 6th Annual Shortstack Charity Fashion Show will be held on Friday, June 22nd, 2012 at the Midtown Loft and Terrace on 5th Avenue in New York City, which overlooks the Empire State Building. Shortstack™ is a teen driven fashion and modeling program whose goal is to allow young girls who do not fit the "normal" model standards to be a part of charitable fashion events. "I am truly excited that Chaske is joining us at this year's show," states Olivia Mignone, founder of Shortstack. "We are trying to shift the fashion industry to become more inclusive of all body types, sending a more empowering message of acceptance to society, which is in complete alignment with how he empowers the lives of others." For years, girls have been rejected from the modeling industry because they are too short. Shortstack was created by teens under the guidance of the non-profit agency Windows of Opportunity, Inc. to give these "short" girls a chance at achieving their dreams as models and empower them to love themselves for who they are.
Spencer, who is of Lakota (Sioux) Nation, Nez Perce, Cherokee, and Creek heritage decent, really appreciates the honor to receive this award at this chic event and feels deeply humbled. "I am so honored to be part of such a great event for a worthy cause," stated Spencer.
Spencer is a co-founder of the Be the Shift Campaign and spokesperson for United Global Shift (UGS), an organization of which both Spencer and Hal Eisenberg, Executive Director of Windows of Opportunity (WOO) are affiliated. "When I met Chaske at a UGS event and learned of the work he was doing I knew immediately that he was a perfect candidate for this award," said Eisenberg. "His vision is aligned with WOO on many levels and I see Chaske, myself, and UGS working together on a global level in the near future." UGS is an organization dedicated to fighting poverty and creating sustainable communities. United Global Shift's mission is to cause a shift in what is possible for humanity, focusing on the environment, employment, entrepreneurship, health and education by
using media outlets to promote entertainment projects in film, television, fashion, sports, advertising, and internet. By promoting these projects the goal is to cause a shift in the way people think and live their lives.
Tickets to the 6th Annual Charity Fashion Show are on sale via Shortstack's website" www.wooshortstack.org, with all proceeds going to fund the innovative empowerment programs at Windows of Opportunity, Inc.