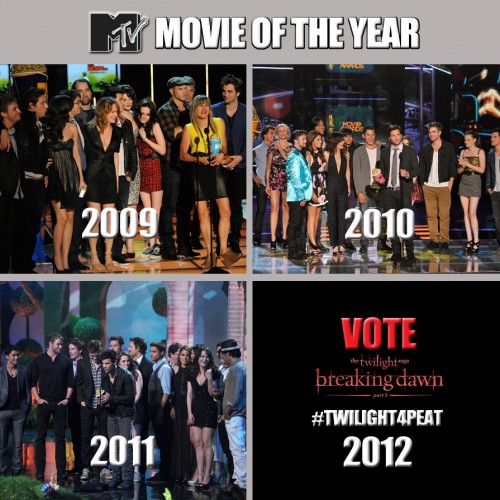 The folks at Summit are encouraging all the fans to vote for Breaking Dawn Part 1 at the MTV movie awards in the hopes of pulling off a historic 4-peat!  The Twilight Saga has taken home the best movie of the year award for the last three years, and this year we want to make it number four!  You can vote at MTV by visiting this link.  Given that Breaking Dawn is only nominated in two categories (movie of the year and best kiss) , fans have to rally around the film to show their support in these two categories.
To encourage others to vote, you can use the twitter hashtag #Twilight4Peat and this bity URL for ease  http://bit.ly/BDMOTY  .
Feel free to use the image in this post if you run a blog or on your face book page or whatever type of social media you connect to other Twilight friends with.
Remember, the rules allow a vote per day, so it's important to vote each each day. Fans of other franchises are also rallying their bases, so make our votes count!
And be sure to watch the show on June 3rd to see if the fandom pulled off the 4-peat!