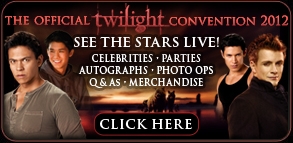 Creation Entertainment is giving us the change for one person to win two gold passes to the Official Twilight Convention in Chicago March 24 and 25.  Gill Birmingham, Booboo Stewart, Bronson Pellitier,  Mia Miestro, Christian Camargo, and Casey LaBow will all be in attendance.  This prize includes admission to the event along with autographs from the celebrities.  It does not include any transportation or hotel accomodations.  You must be able to get to Chicago on your own.
We're making this give away part of our birthday celebration!  Lori will be in Chicago for the convention and will give the winner of this prize a copy of the Breaking Dawn Part 1 Movie Companion OR The Official Guide to the Twilight Saga.  Just leave us a comment about which actor you are excited to see and we will pick one winner at random Thursday.  The winner will be contacted by e-mail.
Visit Creation's site for more information about the Chicago convention.