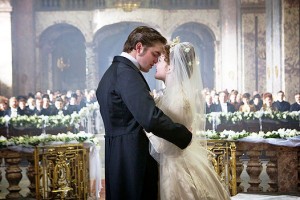 For all of you that have sent us e-mails wondering when Rob Pattinson's new film Bel Ami will be released in theatres in the US, the wait is over!  Deadline New York is reporting that Bel Ami will be in theatres on June 8.   Magnolia films will also make the film available on demand on May 4.
The Wagner/Cuban Company's Magnolia Pictures announced today the June 8th U.S. theatrical release of BEL AMI, starring Robert Pattinson, Uma Thurman, Kristin Scott Thomas, Christina Ricci, and Colm Meaney. BEL AMI had its World Premiere as an Official Selection of last month's 62nd Berlin International Film Festival.

In this sexy retelling of Guy de Maupassant's classic tale of blackmail, manipulation, and social-climbing, set against 19th century Paris, Pattinson stars as the young and very ambitious George Duroy, who discovers that his unadulterated passion and seduction skills with influential Parisian ladies (Ricci, Thurman, and Thomas), above-all, is the fastest and most effective way to the upper echelons of the society he so desperately wants to control.
Do you plan on going to see the film? Is this wait too long for you? Will you see it on demand or in the theatre? Let us know in the comments! Thanks to LadyLovesLeo for the heads up.