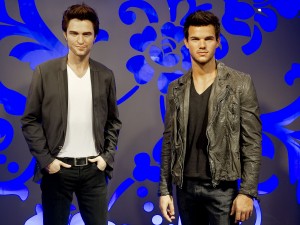 The contest being held at Madam Tussauds is over! And here are the results:
When Twilight star Taylor Lautner joined the Madame Tussauds A-list last month, fans were asked to choose between him and his co-star Robert Pattinson as they voted to crown one of them 'King of Heartthrobs', with the right to their own VIP room in the attraction. The voting closed on Friday 3rd February and after a weekend of counting (and re-counting) the attraction has today confirmed that the results were a draw. No tie breaker will be required however as the dashing duo will now share the limelight, standing shoulder to shoulder in a glitzy VIP area.

PR Manager at the attraction, Liz Edwards, commented "with both actors having such ardent fan bases we knew it would be a close call and we couldn't be happier with the final result. Since Taylor joined Robert, the duo have rapidly become our most photographed figures in the attraction with more people snapping up their images than even Her Majesty the Queen's. Fans are relishing the opportunity to get up close to two of the hottest young talents in the world right now, and we're delighted to give them a double dose of heartthrob!"
What do you think? Leave us a comment and tell us who would you have voted for?