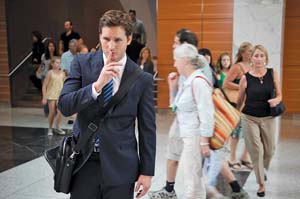 According to the press release:
Celebuzz and Fantapper are excited to host an exclusive live chat with Loosies star Peter Facinelli on January 10, 2012 at 2 p.m EST.
Peter will be talking about his new film, and Celebuzz is giving you the chance to ask Peter — or, as many of you know him, Carlisle Cullen — questions live online in our chat hosted by Fantapper. Loosies, which Peter stars in (he also wrote it — guy's got skills) is out in limited release January 11 and is Peter's first film in between the massive Twilight: Breaking Dawn movies.
The New York City premiere is taking place at at the Tribeca Grande Hotel at 7:30 p.m, but you can talk to Peter before he hits the red carpet! Check out our exclusive Loosies clip and then be sure to Like us on Facebooktoday and visit us at celebuzz.com on Tuesday Jan. 10 at 2 p.m EST to get in on the action.