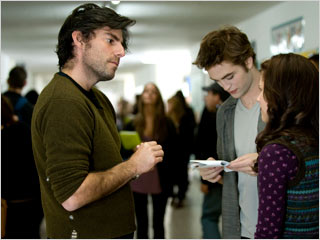 Chris Weitz talked to Variety about working with younger and less experienced actors. This certainly came into play on his most recent film A Better Life and on New Moon.
Casting a young actor amounts to more than just selecting one person to fill one role, according to director Chris Weitz.

"It's important to me that I meet the family before we hit the set, so that they know enough about me to trust me," he says. "What they're really doing is giving over a chunk of their kid's life."

With credits that include "About a Boy" in 2002, Weitz has found success casting newcomers. The most recent addition was Julian as the teenage son of a Mexican gardener in the U.S. illegally in "A Better Life."

While he considers casting a first-timer as "taking a leap into the unknown," the risk, he says, is worth it.

"You know you're going to get a certain fresh and unstudied quality rather than someone who has been influenced by the world of TV, which is really where a lot of kid actors get their first break," Weitz says.
See more on Variety