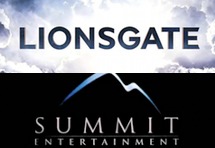 Variety is bringing up the merger talks regarding Summit entertainment with either Lionsgate or Miramax owner, Colony Capital. Again, we're not sure where all of this is leading.
If either the Lionsgate or Colony deals go through, Friedman and Wachsberger are expected to remain in some kind of top-level exec capacities in the merged entity. Summit and Lionsgate have had discussions about uniting going back as far as the fall of 2008, just before the bow of the first "Twilight" pic. Colony, which completed a $663 million buyout of Miramax from Disney in December 2010, emerged as a possible Summit bidder in November.

Both deals would bolster the new Summit's ability to operate as a minimajor. Lionsgate and Miramax possess significant libraries and the merged entity would have more firepower in a marketplace where the major have scaled back the production of mid-budget films in favor of tentpole and franchise properties — creating an opportunity for sizable indies to fill that gap.

Summit has shown that it can exploit a franchise in "Twilight" while Lionsgate's in the midst of starting its own tentpole property with the four-picture "The Hunger Games" franchise. The first "Games" opens March 23 and the trailer has been attached to "Breaking Dawn — Part 1."
So what does this mean for Twilight fans? In short we don't know. Will there be the same fan experiences? Are Comic Con on the easier access Thursday, tent cities, concerts, cast appearances in the mix if there is new management? Will fansites have interview access with phoners, press conference access, and red carpet access? A lot of this will depend on who is retained in a merger, whose vision leads the marketing and PR division, and who has the ultimate sign off.
So like we've said before, about the only thing we can state right now is that it's going to make life around here interesting!