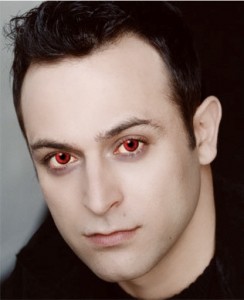 Yahoo! Movies had a chance to talk with Guri Weinberg, who plays Stefan in Breaking Dawn Part 2, at the Official Twilight Convention in Dallas a few weeks ago.  He had this to say about the preparation that went into his roll:
The role comes from Romania over 3,000 years ago. They didn't have the same Romanian dialect as it is today because 3,000 years ago there was Greek, Roman, and Slavic influences. We had to learn Romanian dialect, switch it around, and add those things in so it would be a little more genuine to the time when they were human. That was the hardest thing because it doesn't exist. You have to make it up.
That was the hardest thing, along with learning about those times 3,000 years ago. How was life then? How did they do things? They used to rule the vampire world so they were more royal. For 1,500 years they've been kicked out and beat by the Volturi. You've got the royal behavior and thought but they've been exiled. They don't have that royalty anymore. Some of them just want the revenge. It's all those things. They used to have wives. Some of them lost their wives. How does that all play into it?
There is so much excitement about the Romanian coven!  Let us know in the comments why you think fans are looking forward to Vlad and Stefan.
Read the whole interview at Yahoo! Movies.