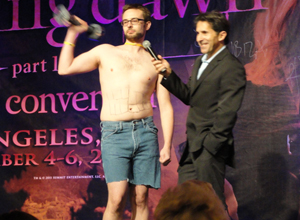 Ryan McKee, AKA The Male TwiHard, has a countdown of his top experiences as a male TwiHard this year. We like number one. It's not often that a guy gives props to the fansite operators as fans who are passionate, but not frothing at the mouth sparkle crazy 24/7.
1. Meeting Other 'Twilight' Bloggers

The entire Twilight Convention is my biggest "Twilight" highlight of the year, but meeting other bloggers and realizing they're also not the geeky shut-ins that people think we all are is my most comforting moment of the year. Thanks to

Letters to Twilight

and

Elle of Twilightish

for supporting me in the costume contest. Also, Laura Byrne-Cristiano of

Twilight Lexicon for posting the video

. Big props to Kandi Prickett of

Salt Lake City Twilight Fans

for taking photos, as well as discussing Major League Soccer with me and for having the coolest tattoo I've seen all year: Pug Jack Sparrow.
Get the full list here.
Here's to what the Male TwiHard bring next year. And in tribute we have the video of Ryan entering the costume contest. Love ya, Ryan!