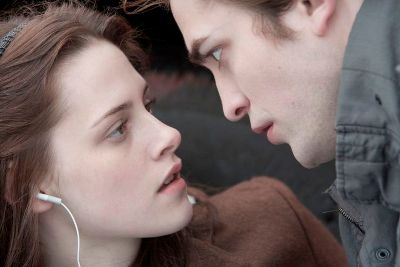 Laura decided to try and tackle a top ten list this week for her regular Breaking Dawn column and discovered it was going to be harder than she realized.
It's that time of year when everyone seems to be making a top ten list, so why don't we jump into the mix too. The Twilight Saga has so many possibilities when it comes to top moments. I started out writing an overall Top Ten Twilight Saga Iconic Moments list taking into account all the Twilight Saga movies, but quickly realized I was going to have to totally rethink that idea because The Twilight Saga: Breaking Dawn Part 1 has so many iconic moments just by itself. This was definitely destined to be a two-part idea. So for this week, let's take a look at the Top Ten Twilight Saga Iconic Film Moments leading up to Breaking Dawn Part 1. Then, in my next column, we'll examine the Breaking Dawn Part 1-specific ones.

1. The original Twilight movie has possibly the most iconic image of the series. It's the moment where both Bella and Edward are entranced with each other right after Edward saves Bella from Tyler's out-of-control van. For many fans who didn't know anything about Twilight until they saw the films, that was the moment that hooked them. They became captivated by Robert Pattinson and/or the Bella and Edward love story right there during those intense few seconds.

2. One of the most parodied parts of the entire series is the infamous moment in the meadow of "Say it out loud. Vampire." If you ask people who aren't fans of the series for a Twilight Saga moment that stands out in their minds, this one is easily it. Even though we don't get the romantic meadow scene as presented in the book, the scene is memorable to fans nonetheless. It's the big reveal to Bella that confirms what Edwards is, and consequently it's what drives the action forward from that point on.

3. The final iconic moment in Twilight is the prom with Edward and Bella's dance at the gazebo. It's the first truly prolonged, tender moment they have in the films. Iron and Wine's song Flightless Bird: American Mouth underscored the sequence and became an instant fan favorite. It was now unofficially Bella and Edward's song, the one that defined who they were to each other. So far, it is the only song to make a comeback on any of the soundtracks. It currently serves as the song at their wedding in Breaking Dawn Part 1.
Check out which other moments made the list on Movies.com (Their commenting system over there is VASTLY improved if you have had trouble before)